Moderator
1,000+ Post Club
5 Year Member
This has been a common topic that keeps coming up. Since it can be hard to tell if you don't know what to look for and to add to it some retailers don't know or care to sell or label them correctly.

The common comparisons people use to use with loreal scales, linear lines (solid or not) and body patterns like most things vary. Some have one scale on one side and two on the other.
Just like some colombians have a dotted linear line along their side (some even solid) the same as some of the other tegus. Since their pattern changes and can break up as they get older no matter what type of tegu it is.

This pic quickly sums it up for me when determining the two. Hopefully it will help others as well for future reference when purchasing a tegu.

As a quick reference forget everything else and concentrate on the head.
The argentine is on the bottom left and the colombian is on the top right. The argentines head scales are pretty much white. While the colombians head scales are yellow with black spots and blotches.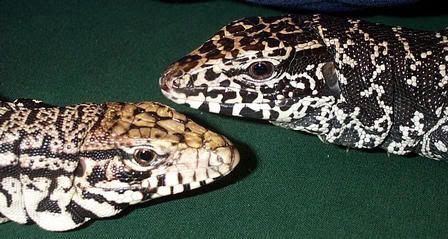 At times the scale pattern on Colombians can resemble big cat animal patterns like cheetah, leopard and things like that. I have yet to see it (animal print) on any of the other tegu species. With some Colombians the scales on the side of their mouth may be a solid color but on top of their head it's blotched or spotted. Base colors vary from one species to the next but the concept is still the same when trying to determine colombian or golds from an argentine b&w.

Try it out and google tegu images. Just from the head alone you should be able to pick out any colombian or gold type pics from black and whites.