Active Member
5 Year Member
I just wanted to give a little background and input on overweight tegus. Most of the tegus you see in the pet trade today are heavier than what they should be. See a wild tegu in South America and they are very LEAN and active. Of course being that our tegus are not roaming the wild and are being delivered a plate full of food without having to work for it, ours are going to be a bit heavier, HOWEVER there is a different in a thicker captive tegu and an OBESE tegu. Weights and numbers dont mean anything, its all about how much fat they are carrying on their body frame. so a small body frame that is X amount of pounds can be overweight while a larger body frame with the same amount of pounds is just fine... same with humans. Also just as with humans being overweight dramatically effects their health. Internal organs, especially the liver is damaged, poor muscle tone from being too heavy to be active, low fertility rates, and shortened life span.
The main cause of obesity is too low of temps and too much protein in their diet. Too much protein means foods like ground turkey, organ parts and other foods that do not have bones, skin, etc. (anything other than whole prey) Red tegus are more prone to obesity since their diet requires a higher fruit content and often they don't eat as much fruit as they should..
Ways to get your tegu to lose weight include providing a basking spot of at least 120, preferably 130-135.coinciding with good ambients. Do not free roam your tegus. Feeding small, healthy and often meals. Healthy food choices such as whole prey and FRUITS! Fruits are a vital part of losing weight. Good hydration - humidity and fruits make a difference. Increase their activity, give deep substrate for digging, bio-activity or leaf litter for foraging (good for mental stimulation too!) Water therapy, placing them in a tub of warm water increases activity for some, but not all. Exercise times where they can roam around a room or an escape proof yard supervised, as well as tong feeding and target training that makes them work for their food (in my experience this has never caused food aggression)
This is Leo when he first came into the rescue over a year ago. He was incredibly obese and has suffered organ damage from it. Even his xrays showed his fat layer. It took just over 6 months to get him to a proper weight and the difference in his body and his activity is amazing. The first picture is of him at his heaviest. The other pictures are of him now.Only 4lbs lighter but 4lbs on a tegu is a big difference.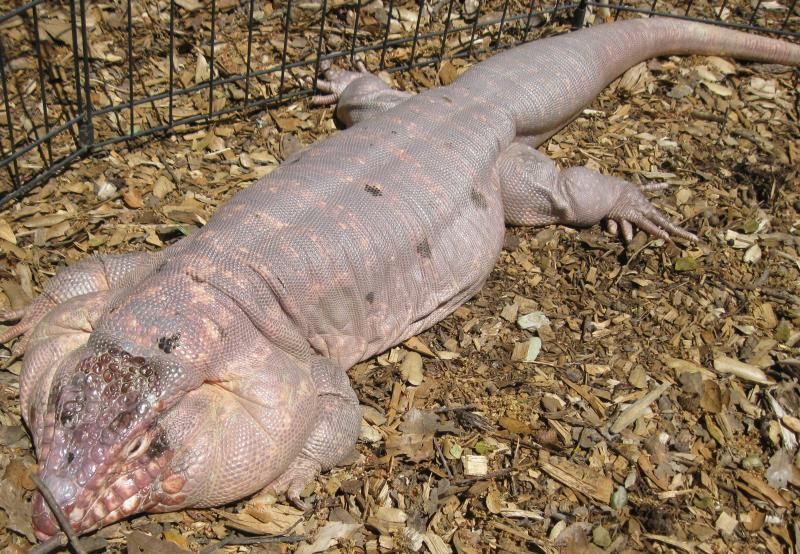 Now:
Last edited: